WA Sexual Health Week 2018 runs from February 14th-21st, with the theme of safety, pleasure and respect.
Desert Blue Connect Inc. in partnership with Geraldton Regional Aboriginal Medical Service (GRAMS) have been awarded a grant from the WA Aids Council to resource the delivery of safe sex messages in our local schools and community.
Educators from both organisations will visit schools and groups in the Midwest region to deliver education regarding safe sex practices.
The initiative aims to improve the acceptability of safer sex behaviour by reducing the shame and stigma associated with Sexually Transmitted Infections (STIs). It will provide sexual health information and knowledge of available sexual health services, plus improve health seeking behaviour to increase testing and treatment for STIs.
'We are going into class rooms to talk about sexual health in the hope that young people are empowered to take charge of their own health and are aware of available sexual health services in Geraldton,' says Desert Blue Connect's Community Educator Jasmyn Williams.
'They will be learning about the risks that come with sexual activity, how to prevent exposure to STIs and unwanted pregnancies.'
The women's health program at Desert Blue Connect offers a range of health and wellbeing services that are provided free to women. They include a female GP, cervical screening clinic, general nurse consults and unplanned pregnancy counselling.
The nurse consultations at Desert Blue Connect are available to women on Wednesdays and Thursdays between 9am and 2.30pm to offer free pregnancy tests, STI testing, relationship and sexual health advice.
For an appointment at Desert Blue Connect call 9964 2742 or drop into the office at 25 Chapman Road in Geraldton.
WA Sexual Health Week coincides with other relevant events including National Sexual Health Week, National Condom Day and Valentine's Day.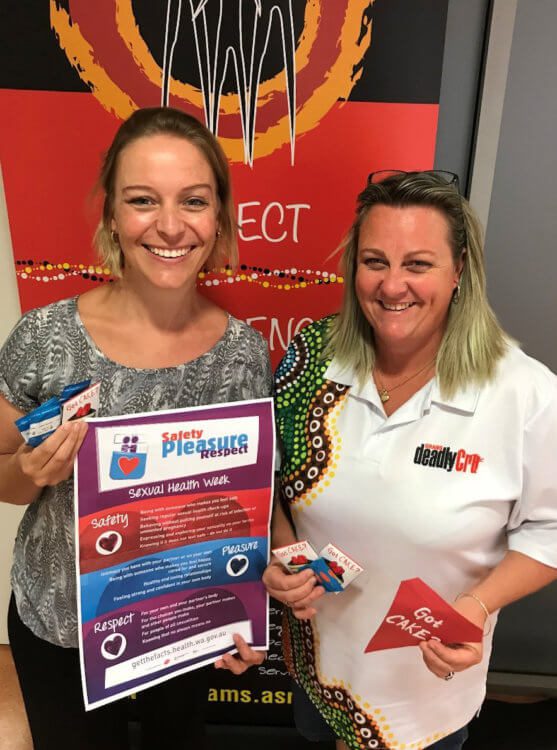 Photo caption: Desert Blue Connect Community Educator Jasmyn Williams with Geraldton Regional Aboriginal Medical Service Educator Danielle Sutton with sexual health resources.