Education lessons in a pack
55 young women from the SHINE and SHIMMER programs run at Champion Bay High School have received personalised educational packs from Desert Blue Connect to help them learn about specific sexual health and respectful relationship topics. Toiletries and sanitary items were also included so the young women can focus on their self-care and hygiene.
The COVID-19 measures necessary to keep the population safe and not overload the health system can unfortunately leave many women and girls at an increased risk of violence, including sexual assault. Both Desert Blue Connect and SHINE staff recognised that this cohort of girls are at heightened risk and worked collaboratively to make the resource packages available. The young women have been isolated from their usual school education and the reputable SHINE and SHIMMER programs run at the school and have limited or no access to the technology needed for online learning, which is why the packs were created.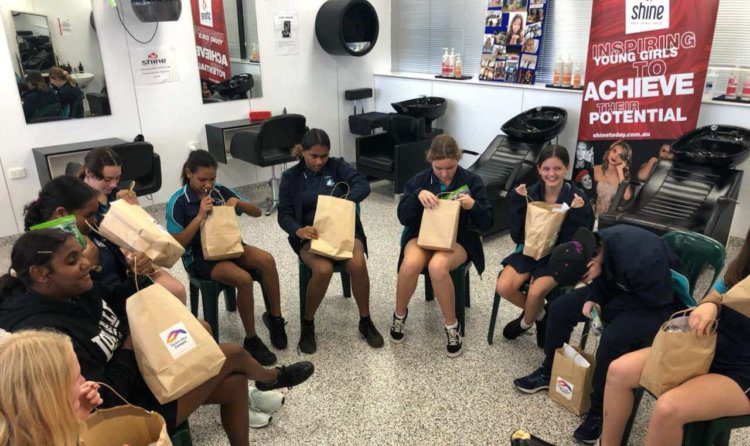 Sarah O'Malley, the regular Desert Blue Connect educator to these girls, felt it was important to ensure they still had contact with the services as a way to continue to participate in essential sexual health and relationship education and keep them aware of how to be safe.
"It is important that the girls have access to information and resources that helps them stay safe. Especially during times when their support systems are cut due to isolation," she said.
"Our resource packages provide education about signs of abuse and how to get help and activities to help them feel connected and improve their mental and emotional wellbeing," said Ms O'Malley. "We also put in practical resources to assist in their personal care."
Jodie McAuliffe is the SHINE facilitator Champion Bay Senior High School and is ecstatic that the resource packs were produced and delivered to the girls.
"Thank you so much, the girls are loving their bags, we can't thank you enough," she said. "The girls were so excited to receive such wonderful packages with so much information. The booklet and little gifts were a huge hit with the girls. I think they were touched by the fact that Desert Blue Connect and SHINE continued to care and support them and find ways to give them vital information during this pandemic."
Ms McAuliffe highlighted that there are many issues for these girls in the home environment that have been amplified by the pandemic.
"A lot of girls we see are exposed to family violence and think this is what normal is. They also have a lack of awareness and understanding on their rights and what respectful relationships are," said Ms McAuliffe.
"Keeping our SHINE girls informed and aware and engaged in learning has been vital in keeping them focused on their health and wellbeing. Having the Desert Blue Connect information in an accessible format has meant the girls have not missed out on learning or access to key information. It's a vital part of our program".
Ms O'Malley is pleased to hear the education booklets have been completed by the girls at home. She is hoping to be back with the two groups very soon but due to restrictions at schools cannot do face to face education at this time.
"I am back this week helping the girls out using Zoom, at least they can see my face and we can go over any issues they had and talk more on those personal issues," said Ms O'Malley. "I love working with these girls and empowering them to make positive decisions about their health, wellbeing and life."